Where your dogs are the stars !
If you'd like to see your dog(s) in the Paws of Fame just email (info@woofbed.co.uk) a few pics of your furry friends enjoying their Woof~Bed, accompanied by a little bit of writing about them and what they like to get up to.

We would love to add them !

Blue & Ben - Perthshire, Scotland
The bed was bought for our Greyhound, Blue but since it arrived Ben has more or less claimed it.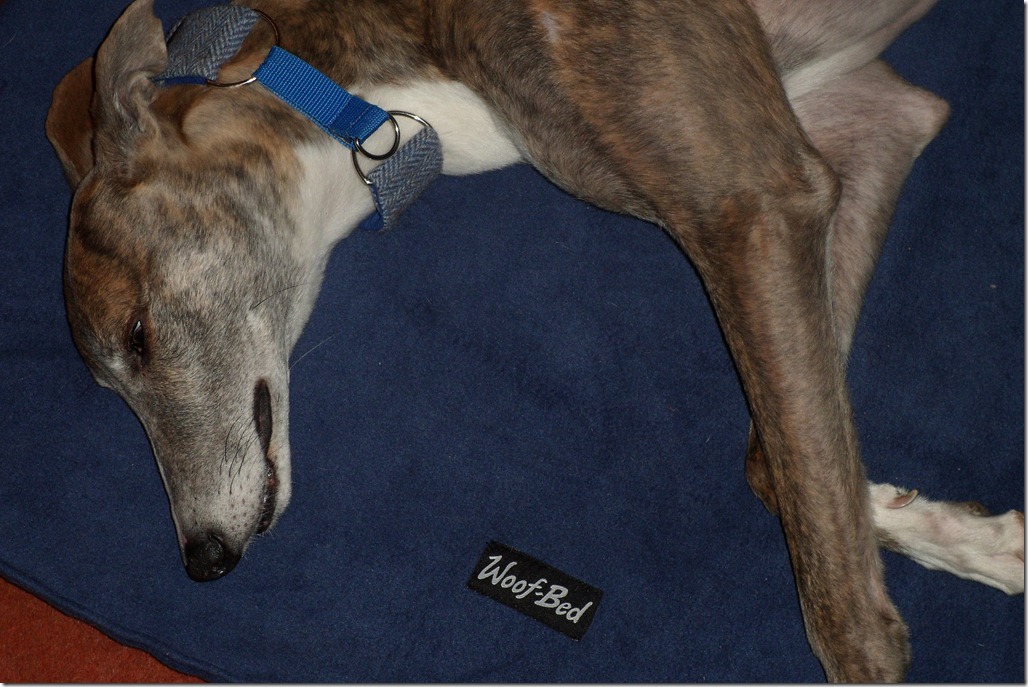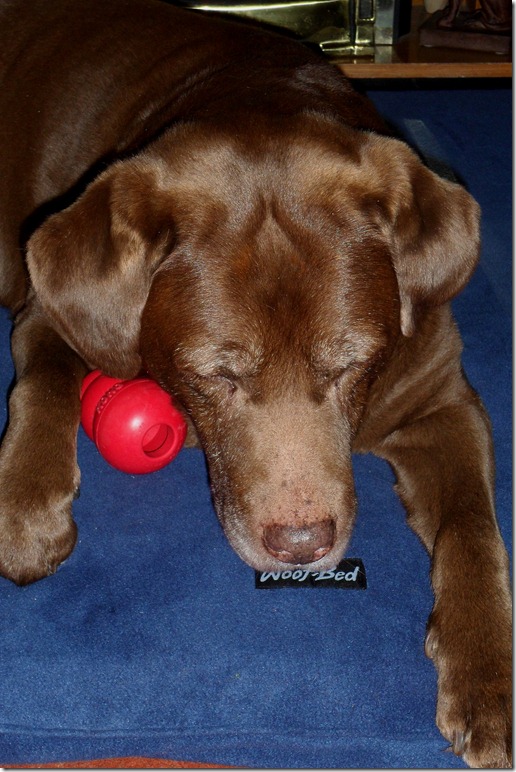 Ben is still a reasonably active Labrador who will be 14 in February. He still loves the beach and walks with Blue and my daughter's two greyhounds, Holly and Harry. However at 14 his old joints are a bit stiff and the memory foam seems to give him that extra bit of support. He is also not a small dog at over 45 kilos now and I am sure that without a good bed under him his weight would cause discomfort in his joints.
Blue could sleep on the edge of a knife. He is after all a Greyhound and a genuine 40 miles per hour couch potato.

If he gets to the bed first he will push Ben away to keep him off. However as soon as Blue gets up Ben is in there like a ferret up a drain pipe. Youth and fitness are no match for experience and cunning.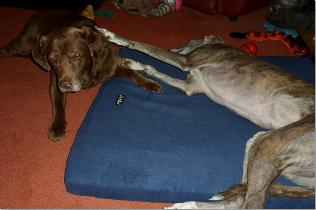 Blue & Ben chilling in the garden.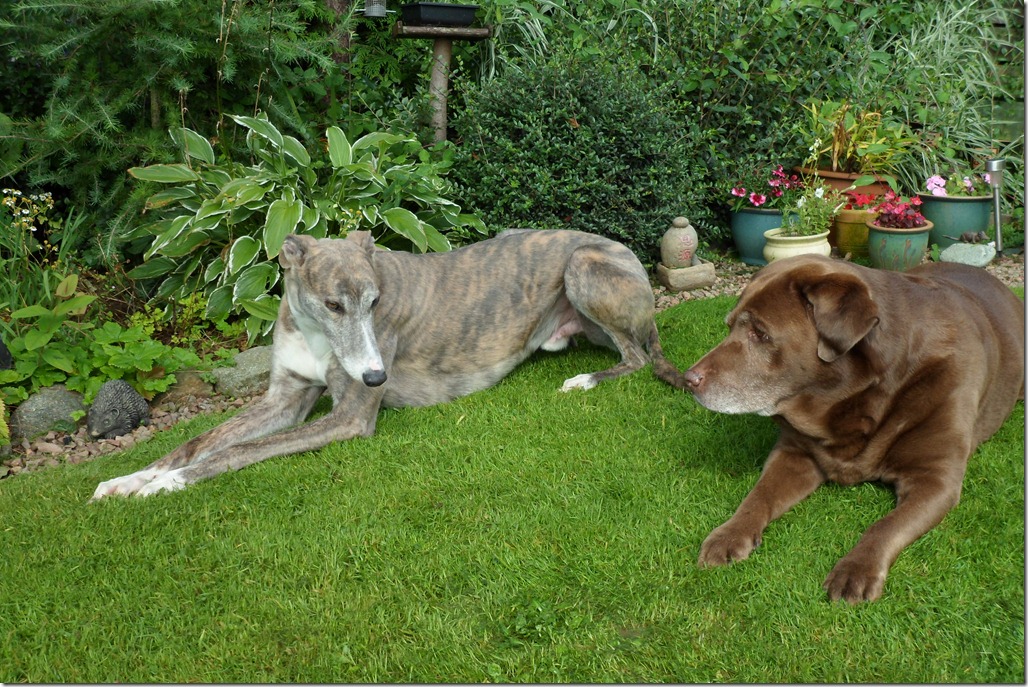 Kenny - Shropshire
We rescued Kenny when he was 15mths old and he is now 8 1/2 years old. The RSPCA only got one of his attributes right, he likes to be groomed and fussed.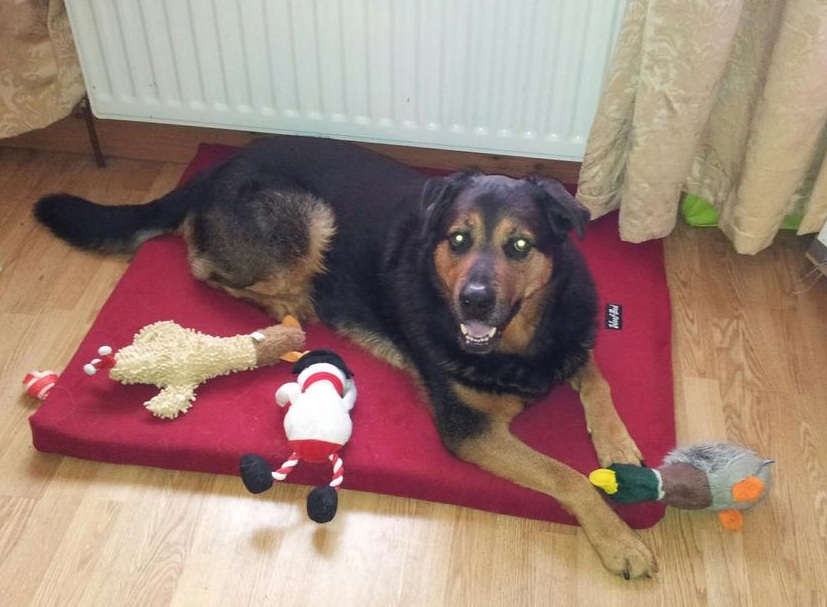 He also gets on well with all dogs, big and small and the biggest smile we have seen him wear was when being chased by a Jack Russell, reason he is known by friends and family as a Big Gay Dog. He isn't a Fighter or a Lover hence earlier reference, doesn't seem interested in the ladies LOL. Although he does seem to get a grump on if he hasn't seen any of his doggy friends for a few days.
He also enjoys his walks and often sprawls all over the sofa, his bed or ours afterwards. He has only been away from us for 9 days since we have had him and even joined us on our Honeymoon in the Lake District. He is a proper member of our family.

Max is 6 years old which is an achievement in itself, he has had surgery on his nose, tummy and brain and was very poorly. He battles on even though he has poor eyesight and seizures. Max works as a Pets As Therapy (PAT) Dog and visits lots of places to cheer people up in hospitals & youth clubs. He comes to primary school one afternoon a week & loves to play hide & seek with my little clients.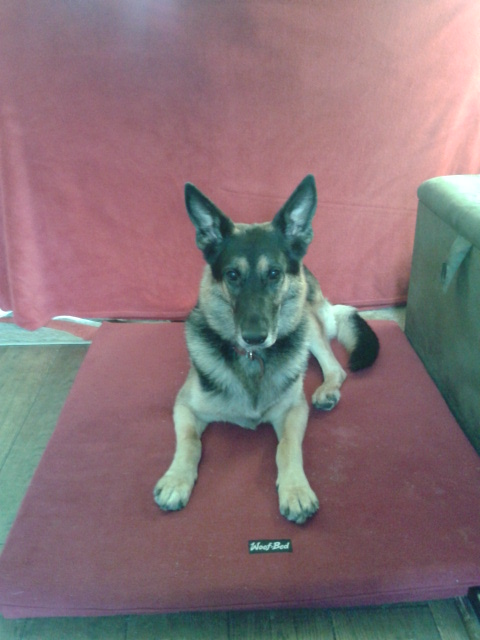 Max also likes to greet clients at my Private Practice and as a therapy dog he likes to frisk all my clients and search their bags to check if they have any snacks for him, which they often do. He is a clever boy and has learnt to open his snack cupboard door!
Max living life to the max !

Lenny the Lurcher - Lancashire
I am a lurcher rescue dog from Dog's Trust, Merseyside and been in my forever home since 2009. I love treats, chasing balls, play fighting with dad, cuddles, but love nothing better than a good nap. Mum entered your competition and I was so happy that I won. Now look at me with my posh, wonderfully comfy bed!!! Thank you so much for my prize. Here's to more naps Lots of love and snoozes, Lenny the Lurcher X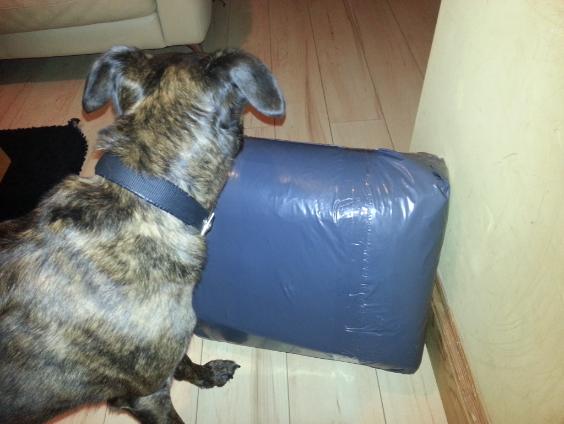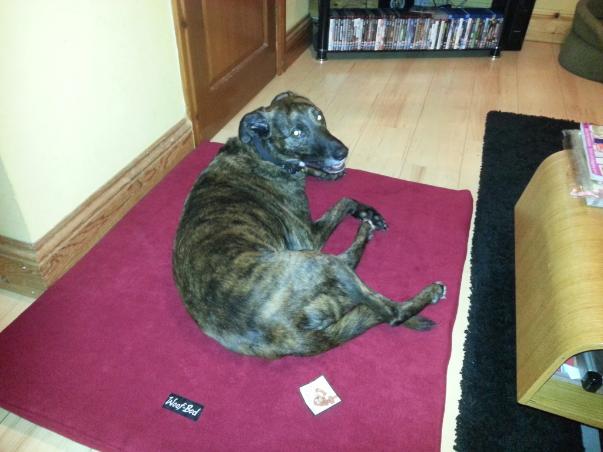 Woo Hoo, my prize has arrived !
Thanks Woof~Bed !
Congratulations, Lenny ! We're so pleased you love your new bed X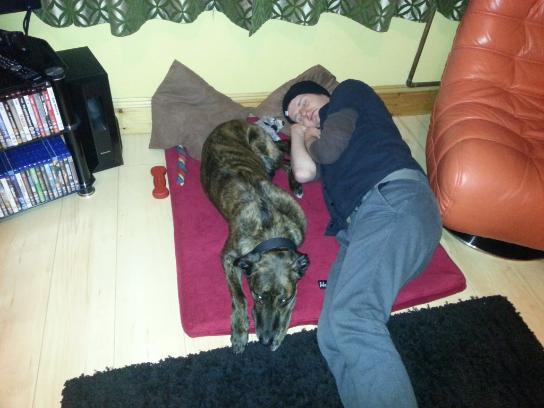 Hang on a minute....Dad's trying to steal my bed !!
Holly - Northamptonshire
My name is Holly and I am 4 years old. I am an ex RGT dog but never actually raced, because I am a bit loopy and concentration is not my strong point!
I live with mum and dad and my bro fur Harry. I have been in my forever home in Northamptonshire since May 2011. As expected being a greyhound,my favourite thing in the whole world is sleeping! I can spend up to 18hrs a day examining the inside of my eyelids so of course I need the right bed to be able to achieve this. My Uncles Blue and Ben told me about Woofbeds and I knew I had to have one!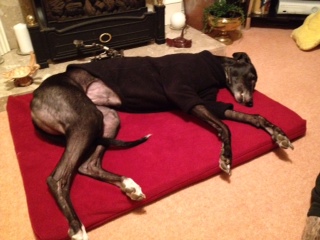 When mum can get me off of my bed I love to take part in 'meet and greet' fundraisers where I get to meet people and tell them what wonderful pets us greyhounds make and they are so impressed with what I tell them that they put pennies in my bucket so I can send it to greyhounds that haven't been able to find their forever home yet.
Harry is also an RGT hound but he did have a racing career, I love having a big brother to look after me but don't expect me to share my bed!
Spaniel Harry - Devon


Herro my name is Hawwy, me an English springer spaniel. Dis is my sisfur Maggie. We live in Devonia.
Me gets me woofbed fur me burfday as a pwesent and it is pawsome. It so comfy and I has been caught carrying it awound wiv me to sleep in different rooms!
My sisfur Maggie wuvs it too as yoo can tell by her waggy tail in her picfur. Highly wecommended bed gets a paws up fwom us.
Harry is a very important Springer Spaniel in the canine community as he has his own woofsite www.spanielharry.co.uk and is a proud pawthor of his own book 'Help my Dog's on Twitter' inspired by Harry's own tweets. You can follow him on Twitter @spanielharry

Eva - Manchester
My name is Eva and I am a very lucky greyhound. I came to live with my mum when I was 8 weeks and 1 day old.
I am a very adored pet, love squeaky things, chasing balls and swimming (as long as I can walk in not jump in).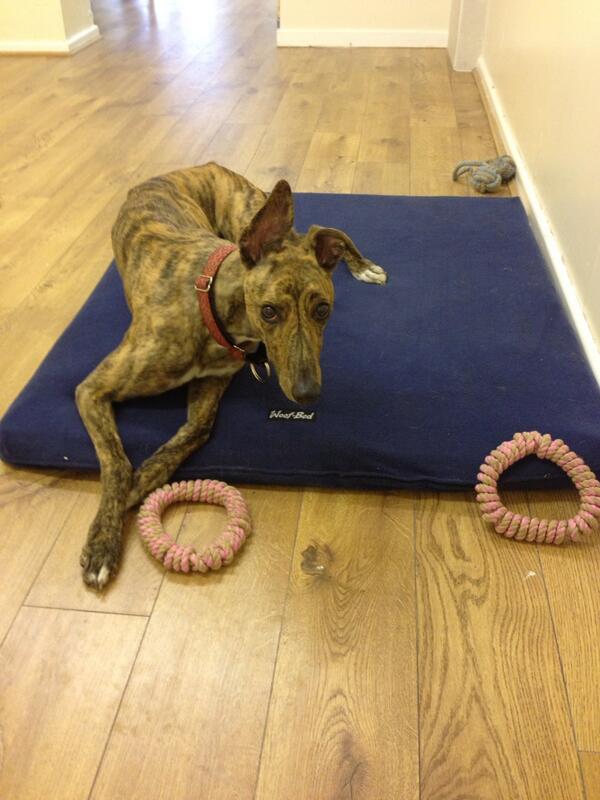 I luffs me Woof~Bed lots, I rest on it everyday in my mum's dog grooming salon.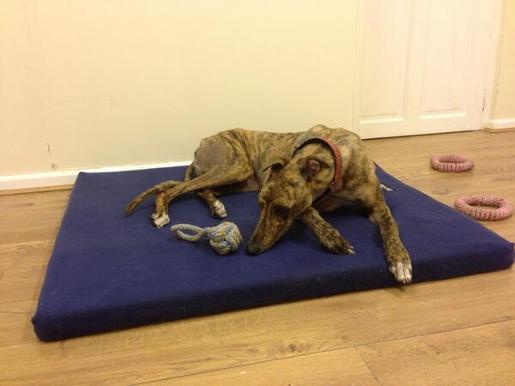 Never seen a puppy greyhound? Here is one at 2 days old and one at 9 weeks old.
Lucy - West Midlands
Lucy loves going for walks and playing in the water. She adores meeting people and loves nothing more than someone who will throw a toy or ball for her. She usually manages to suss out who will play with her!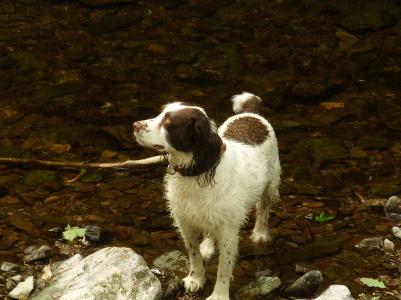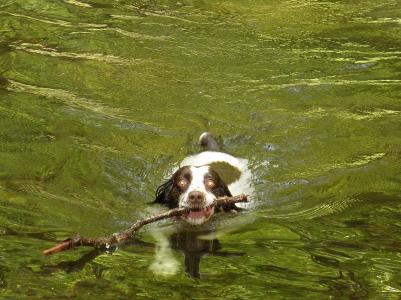 Lucy's Pet Locker evolved from Lucy having ligament and joint problems so her mum did some research, and through trial and error found what best suited Lucy that was non invasive and completely natural.
Please visit www.pawsthinknatural.co.uk for natural, non invasive pet healthcare.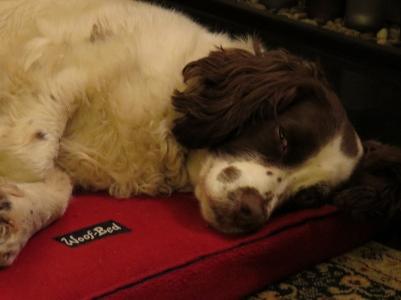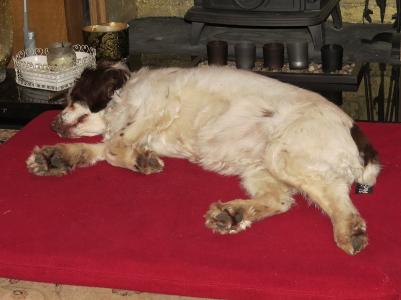 After a hard day running around, Lucy likes nothing more than to crash out on her Woof~Bed !
ThuggyDog - Cornwall
My real name is Tabatha but I was nicknamed ThuggyDog following my antics as a puppy dog!!!
I got my "forever home" in May 2008 and I now live in the lovely coastal town of Hayle.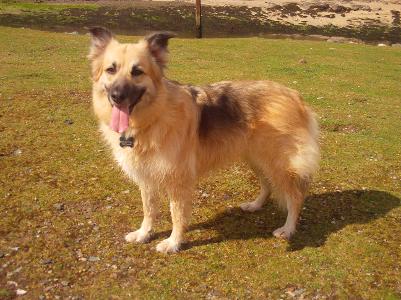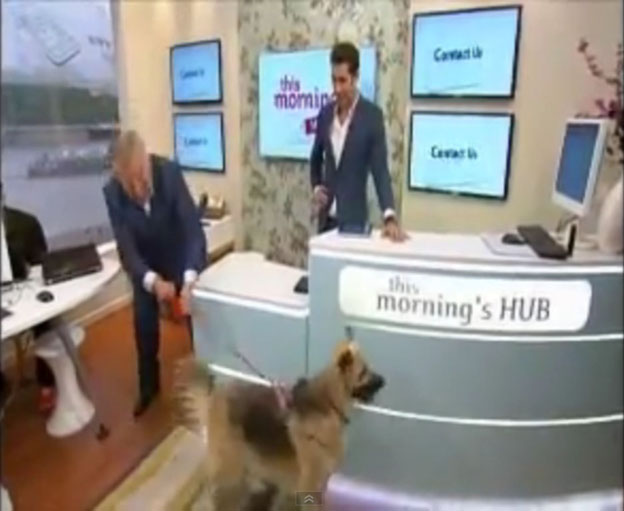 In May 2011 The Great British Public voted for me to appear live on ITV's Flagship Program (This Morning Show) as their Hub Hound!
Not only do I now have my own website but I also have over 2000 followers on Twitter. You can follow me @ThuggyDog
I really love my Woof~Bed, but mum says I has to share it with my bruva Jonty Boris...Hmmm me not sure about all this sharing, but I luvs him so I will X
Stormy - Luton
Hello my name is Stormy and I am now 9 years old. I love walks and playing in the woods, to swim and I love agility.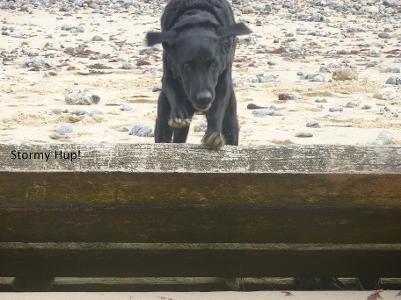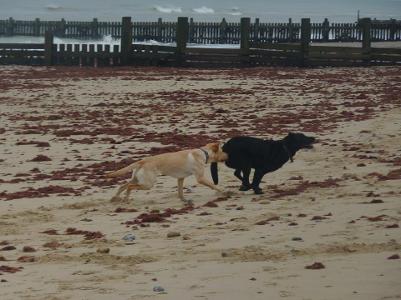 My favourite toy is my frisbee. I love my new memory foam Woof~Bed and so does my friend Adi, just what I need to stay nice and comfy as I grow old. Thank you Woof~Beds for this bed of luxury.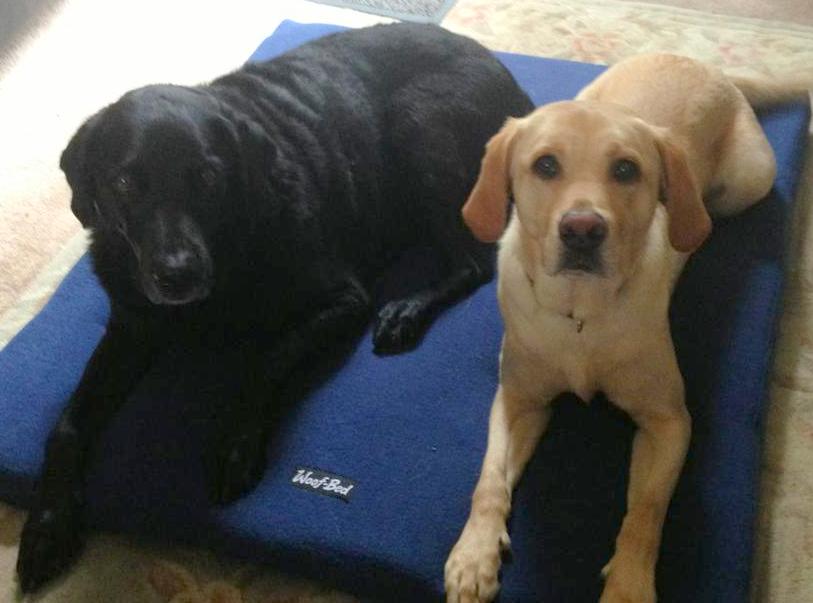 Also my mum (Julie) is a wonderful dog trainer and you can get help from her at
Oliver - Cornwall
Oliver, 12 years young, is a very very special Labrador with a wonderful story which you can read all about HERE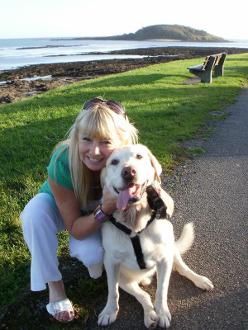 Oliver loves nothing more than to be swimming in the sea and getting lots and lots of kisses and cuddles from his mum and dad Chris & Gary X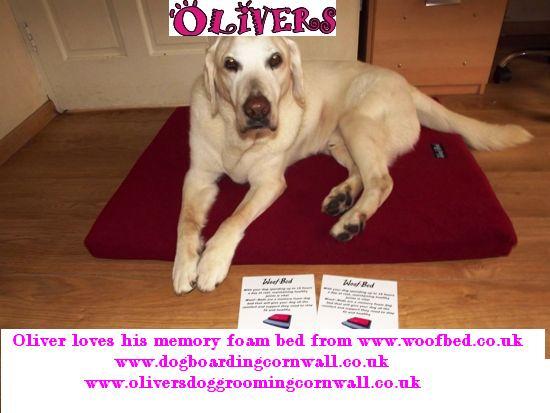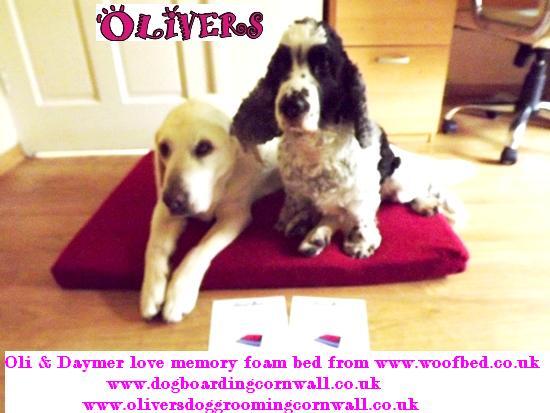 Oliver is an incredibly lucky boy because his mum and dad run an Award Winning Dog Grooming and Dog Boarding business so he's never short of furry friends to play with and share his Woof~Bed with :o)
So if you ever need a beautiful place for your beloved furry ones to stay/board at or if they're in need of some Grooming TLC please get in touch with Chris and Gary
www.oliversdoggroomingcornwall.co.uk www.dogboardingcornwall.co.uk
"Because they care when you can't be there"
Tina - Darlington
This is Tina (@T_Loafy on twitter). As you can see, she loves both her Woof~Bed AND the sofa:0). Old habits die hard. I've had Tina since November 2011, she is now 6 years old.
When I first got her my Mum was still alive and had resisted my attempts to get a greyhound for about a year. However, one fine day she relented, saying, "Only get a small one, mind!"
On the day we first went to see Tina, my Mum got dressed up in all her best clothes, wore her favourite perfume, and jewellery. I asked, "why are you getting dressed up? I don't think Tina will notice.", to which she replied, "I just want to make a good impression!"
When we got to the RGT kennels in Darlington, Mum made a beeline for the cage where stood the only greyhound not making a racket; Tina. Mum put her fingers through the bars of the cage and Tina licked them whilst wagging her tail. I was relieved as I had visions of Tina biting her and that would be the dream over.
We took Tina for a walk, with Mum offering to hold her on the lead; again, I had a vision of this 73-year-old woman being dragged along a field by a hound capable of going from 0-43 mph in the blink of an eye! Tina was good as gold.
After deciding that she was the one for us, we had to wait a month as the vet couldn't neuter Tina due to her being in season, but I went to see her every weekend to walk her.
My Mum, sadly, passed away unexpectedly in February 2012, so only knew her for 3 months. Tina was there with her when she died, and no doubt never left her side. Tina loved her Gran.
Thank you for making these super-comfy dog beds, I can highly recommend them to everyone:0).
Jimmy Hardy, Darlington, UK.
Please pop over to Jimmy Hardy's Shop
HERE
to find all your 'Hound' T-Shirts, Hoodies, Stickers and Cards !
Teddy - County Durham
Hi I'm Teddy, a Nova Scotia Duck Tolling Retriever and I love nothing more than to take my Mum and Dad (humans) on BIG adventures !! Like going to Crufts, the beach and of course getting an Ice cream :o) Its good for them to get out !!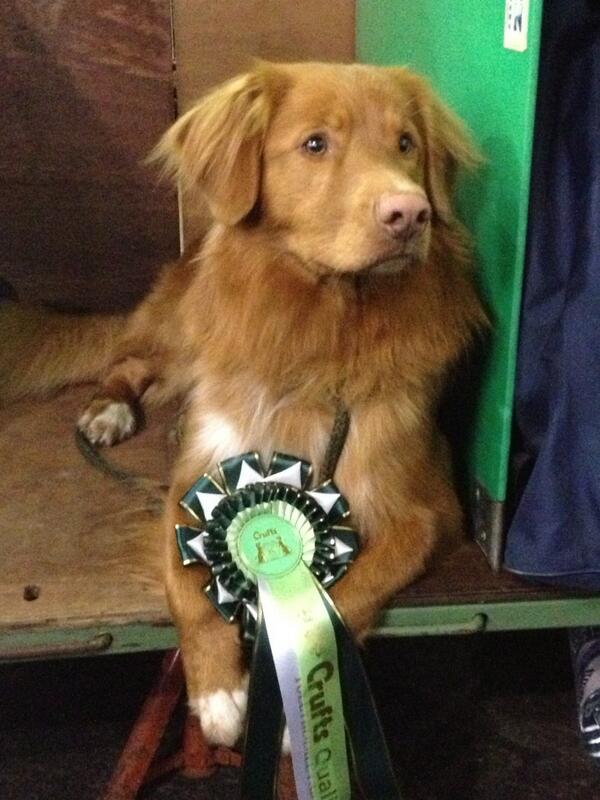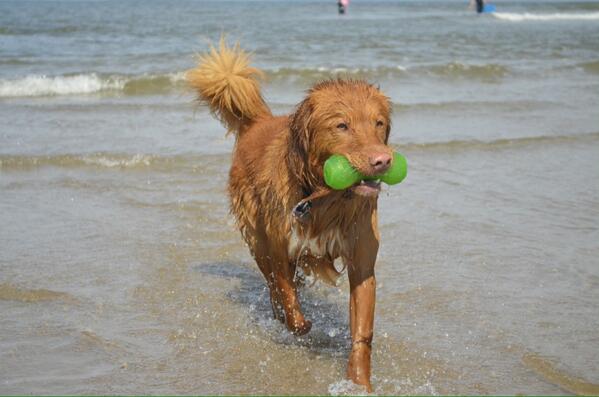 I love nothing more than to do zoomies in the snow and after a hard day chasing my ball I love to lay on my very comfy Woof~Bed which my lovely Mum and Dad bought for me !! X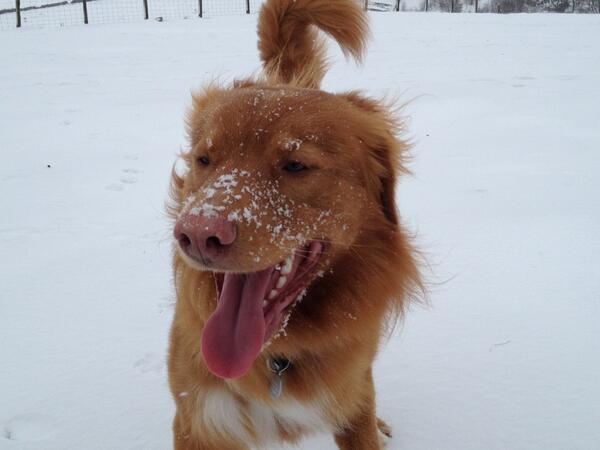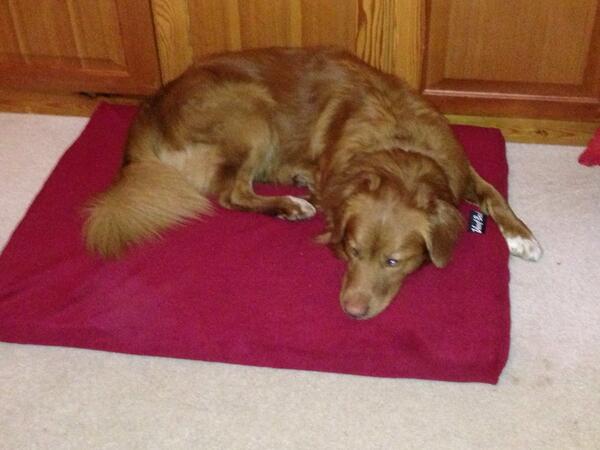 Scrumpy - Dorset
Scrumpy is a lovely mix of Greyhound,German Wire Haired Pointer and Dalmation who loves to watch the tennis with his mum and going out in the sports car with the top down :o)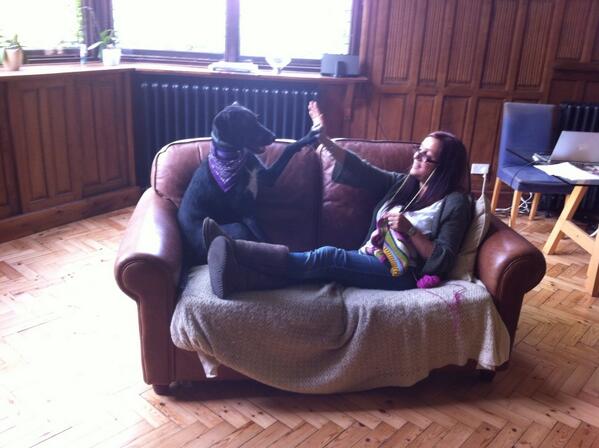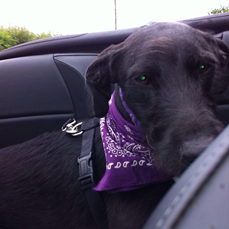 Scrumpy is a very intelligent boy and keeps an eye on him mum while she's doing her crochet :o)
Ali (Scrumpys mum) is a Crochet teacher, she has lots of tips and patterns on her website www.gethookedoncrochet.co.uk/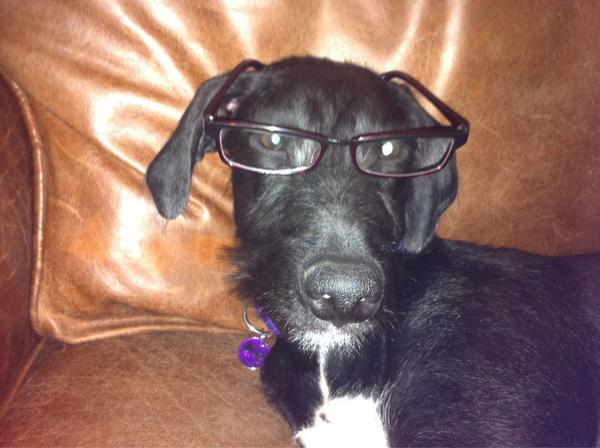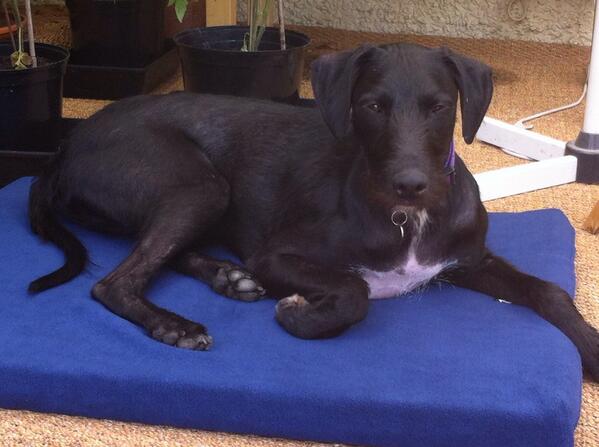 Scrumpy loves his Woof~Bed so much that he has given the sofa back to his mum and dad to sit on hehehe X
Doris - West Yorkshire
Doris is aged about 10. She came to us from the Blue Cross in 2011 after being picked up as a stray. She has a touch of arthritis so does get stiff but still likes nothing better than getting wet and muddy.
She loves water so much that she goes to "doggy swimming" every week at the canine hydrotherapy pool! We try to do as much as we can to keep her mobile and comfortable and her Woof~Bed is a great way to do that. When the parcel arrived she knew it was for her and couldn't wait for us to open it, she did it herself!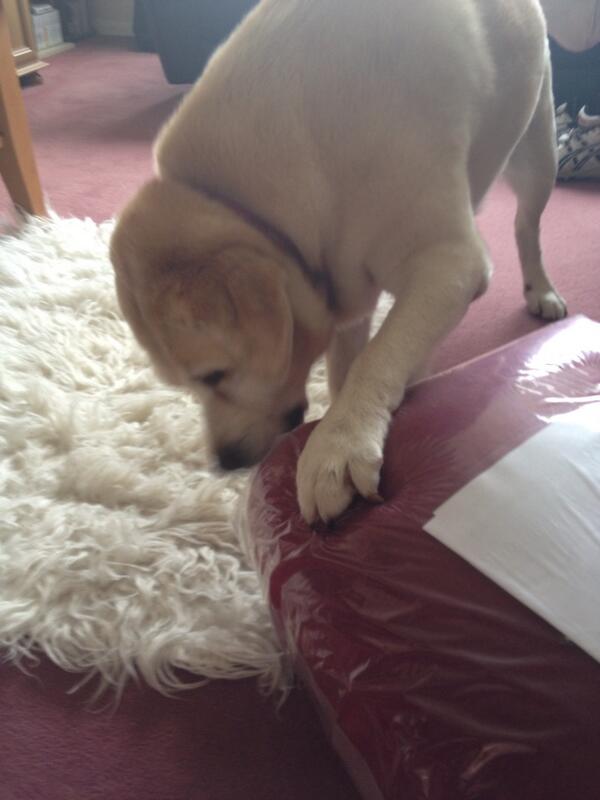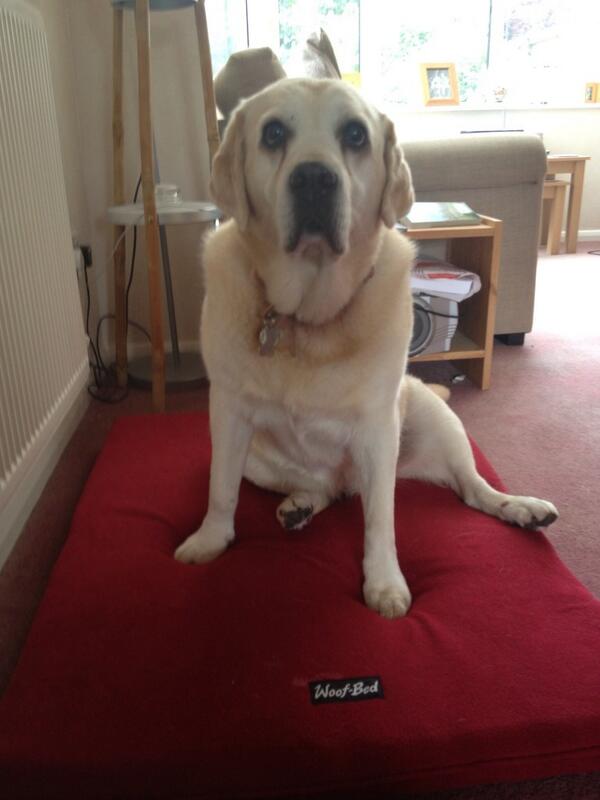 Jack - Shropshire
Jack is our lovable Labrador x Basset Hound ! He loves nothing more than to run around the house and play with his ball and toys all day....and meeting Santa :o)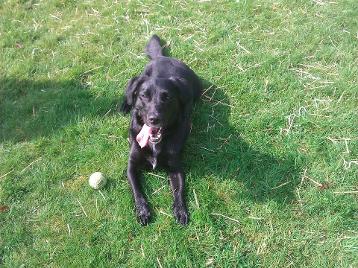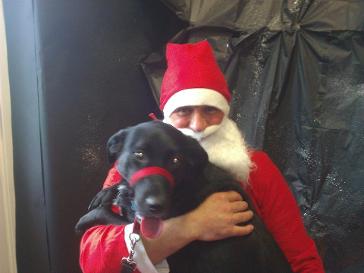 Jack has won a few rosettes including ' Child's Best Friend '.
His Woof~Bed has really made a big difference with his arthritis and helped him recover from his leg operation X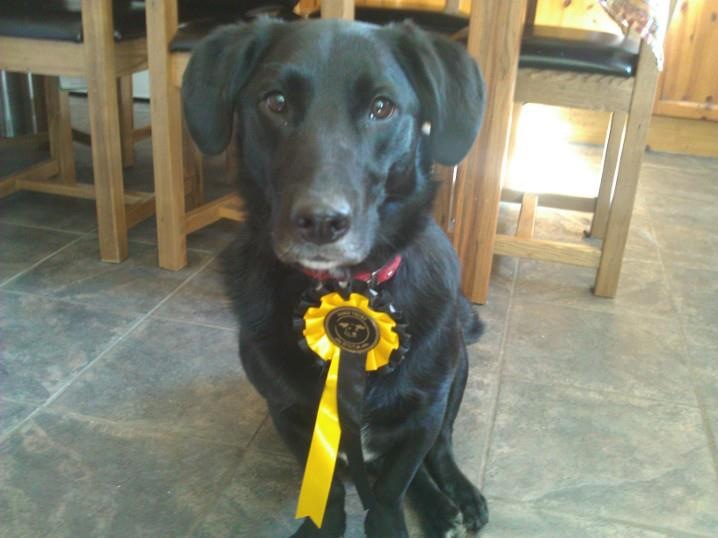 Bud & Patch - Shropshire
Our 2 beautiful Collies that are 8 years old, but act more like they're 4 ! Both rescue dogs we've had since they were 3 & 5 :o)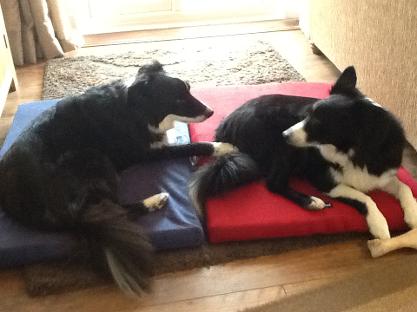 These pictures were taken after 5 minutes of unpacking the Woof~Beds. Bud & Patch love them so its a 'Big' paws up from them :o)
Boo Boo - Devon
Boo is 2 1/2, we got him from dogs trust at 13 weeks, he is such a sweet natured Boy, who likes to have fun, his favourite things are playing with a tennis ball (He never tires of us throwing it !!) eating ice cream (He has a baby cone).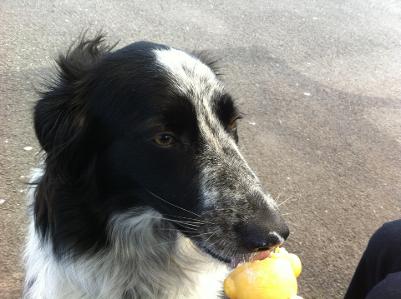 He has a pair of sun glasses like Elton John (Rocket pooch).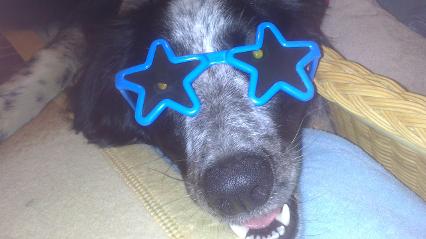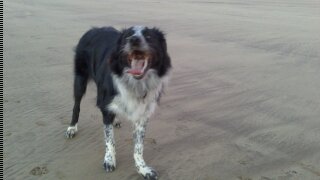 Sadly he has hip dysplacia but you'd never know so your memory foam mattress will be a god send X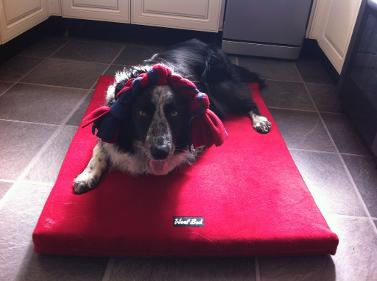 Bouncer, Russo & Minnie - Kilmarnock
Andy, my partner of 18 years and I - are big animal fans! We had 2 cats who got on great with the greyhounds - both are sadly departed.
We had a collie/Rhodesian ridgeback cross for many a year - Dusty - and we cared for her right to the very end! She was the love of our life!
After a few years of a feline-only household, Andy decided in his wisdom to get a dog - whilst I was away on my annual snowboarding trip. I had an inkling he was up to something - there was a home visit after all! - but when I came home from France, there sitting on my lounge floor was the most beautiful, majestic white and black greyhound - Gill.
We got a friend for Gill after a wee while - Bouncer. Gill and Bouncer were inseparable - thick as thieves.
Bouncer is still with us now, and at 11 years old and with mild spondylosis, is the longest anipal we've had. He is our life-blood, our best friend and the most loyal pal you could have. He's lying beside me right now as I type!
Gill passed away a couple of years ago after a very quick and aggressive osteocarcoma - an all too familiar greyhound disease and one that takes the dogs shockingly quickly.
We were heartbroken at the loss of our first greyhound. Bouncer, too, was heartbroken. He wouldn't go out to walk. He would leave exactly half of his dinner, hopeful that Gill would come back to finish it. So in the end we got Sandy.
Sandy was picked up off the rough streets of Govan (near Glasgow) by the Police and handed into a rescue. We couldn't help but adopt her - scuffs, scrapes, scars and all.
A beautiful sand coloured miniature lurcher, she was quickly brought into our family life.
And then we got Russo!
A big handsome, grey, ex racer - all muscle and attitude - when we got him he didn't even know how to go up or down stairs - he had been kept on the "flat" all his life! He now does the stairs in 2 leaps!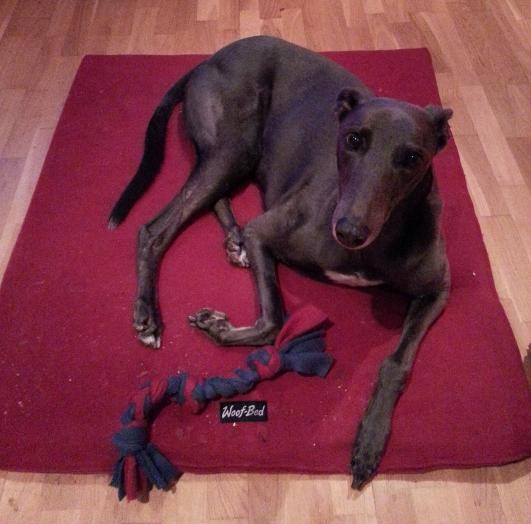 We only had Sandy for a year - the wee soul developed a brain tumour and we tried our best, with treatment at the University of Glasgow Vet School - Sandy had her mask made and fitted and had 6 sessions of radiotherapy. Suddenly, one day, she collapsed and we rushed her to the local vet. She told us to take her to the Glasgow Vet School, where her main treatment had been given; showed me how to do heart compressions and said that if she arrested on the short journey to Glasgow, to pull over and just be with her.
We made it to Glasgow and left her in the care of the vets - but I watched her being wheeled away on a trolley and I never saw her again. She just didn't survive the night.
I always told my partner that 3 dogs was the limit - else we'd have a whole menagerie of dogs!
After a while we got Minnie. Minnie took our total to 3 dogs. Minnie is a smaller greyhound and the most loving, playful, cuddly dog you could imagine! She sneaks up on the couch with us. She sneaks up into bed with us. She sneaks everywhere - buy always with a smile and big, loving brown eyes!!!
So that's about it! At the moment we have Bouncer, 11, Russo, 7 and Minnie, 5.
These animals ARE our children - they are our family. We sacrifice a LOT to have these dogs but we are happy and grateful to be allowed to have them as our pets.
We would do anything for them and are big supporters of the Greyhound Awareness League, SSPCA, Farplace Animal Rescue and Dogs Trust, among many others!
We try as
hard as we can to help animals who are not in a position to help themselves. Like many others, we shudder and
are disgusted at the way some animals are treated around the World.
Sadly, we can only do so much, but take comfort and solace that what we do is immediate, worthwhile and appreciated.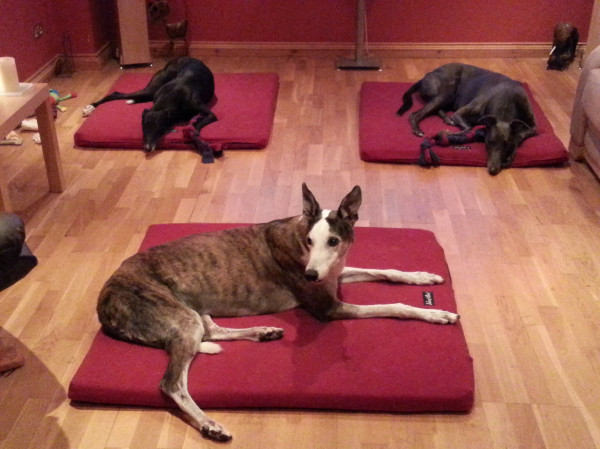 They LOVE the Woof~Beds - it's amazing - it seems like the dogs are floating, and, being lazy buggers, they like to laze for many hours at a time!
I don't think they experience separation anxiety when we are at work, as they have each other for company.
I like to think of them as "in retirement", lazing the day away until we come home to give them dinner, treats, walks and a deluge of love!!!!
Please keep up the amazing work - you are changing lives, both human and canine, on a daily basis, and for that you are to be applauded!!!!
Thanks on behalf of myself and Andy, Bouncer, Russo, Minnie and all of our dearly departed anipals who have gone "over the bridge" - we'll always love them and will never, ever forget them!
With very best wishes,
Allan & Co.
Sally - Kent
Hello, I'm Sally and I'm a 7 year old retired greyhound. I didn't retire from racing until I was 6 - apparently I was quite good. Me mum & dad came to see me at Dogs Trust in Canterbury, fell in love with me (and who can blame them?!) and took me to me forever home. I luff me mum & dad and they thoroughly spoil me - they understand that as a retired greyhound I need lots of rest.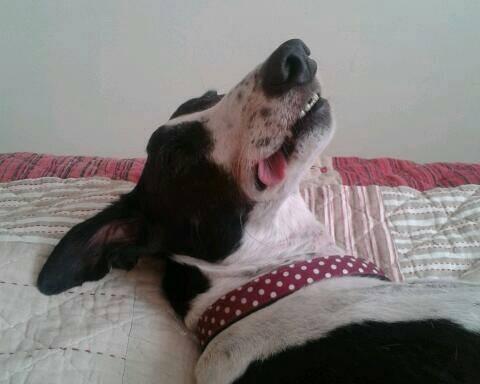 Now, everyone says I'm bootiful so to keep up me image I need lots of booty sleep, so for me 1st Gotcha Day I was treated to a Woof~Bed to guarantee all the rest, snoozings & booty sleep I need.
So here's to more Gotcha Days and just as important lots more booty sleep!
Thank yous Woof~Bed X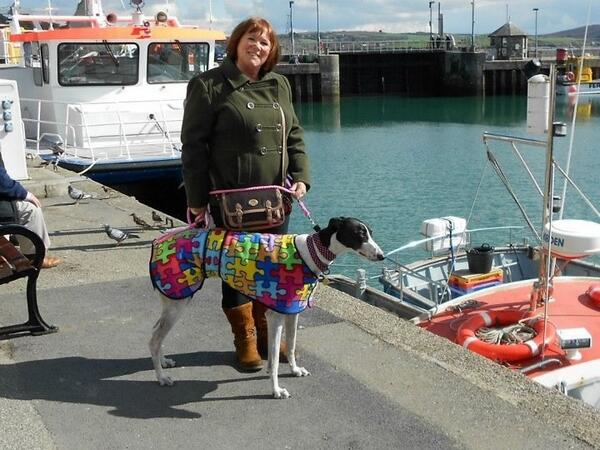 Princess Holly & Zak - Nottingham
Hello my name is Holly, I'm 3 years young and I feel it is my duty to show everybody just how gorgeous the new 'Pretty in Pink' Woof~Beds are, the colour is sooo me don't you think?
I used to win greyhound races but then I broke my leg when I was only 22 months old so I now has a new career as a Princess and I am an excellent Princess!
Mum did buy me a blue Woof~Bed a while ago and it is very comfy but when I saw the new pink ones on the website I just knew they were made for a Princess to spread her paws out and relax on.
I have very generously donated my blue one to my big bruv Zak who is 4 and a half, which I think is very noble of me so he had better appreciate it but then I is a Princess with a pink bed. :)
Much Love, Princess Holly X
Bella - Sussex
I'm a 9 and 3/4 year old pinkstafferdale (I created name myself we fink I is part staffie, patterdale & part Pink)
I was found dumped on a motorway at a few weeks old n my mummy took me in wifin hours of me being found and bottlefed me we has a vewy close bond .
My fwend hawwy spaniel did blog about me not long after I started on twitter and he did name me bellisimobella instead of just Bella and it stuck I luvs it.
Me and Hawwy did just click and when he started his woofsite
www.spanielharry.co.uk
he asked me to be agony aunt which I luv and we has now taken it furvfur and do tea wif bella where I gonna be doing some intervoos soon, hey auntie Ninna I shud intervoo you to find out more about Woof~Bed and how they came about can I add you to the list? - "Yes please Bella add me to the list" :o)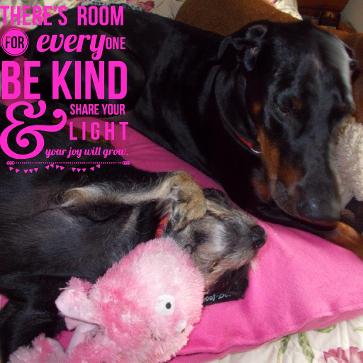 Hawwy has recently given me a job wurkin wif him in his new hemporium I in charge of da pink fings and I do nag him to get stuff dun I suppose I a bit of an unnofishal PA , I not really got a job title we jus get along gweat and bounce ideas off each uvfur he knows I'm a fwee spirit n just lets me get on wif it.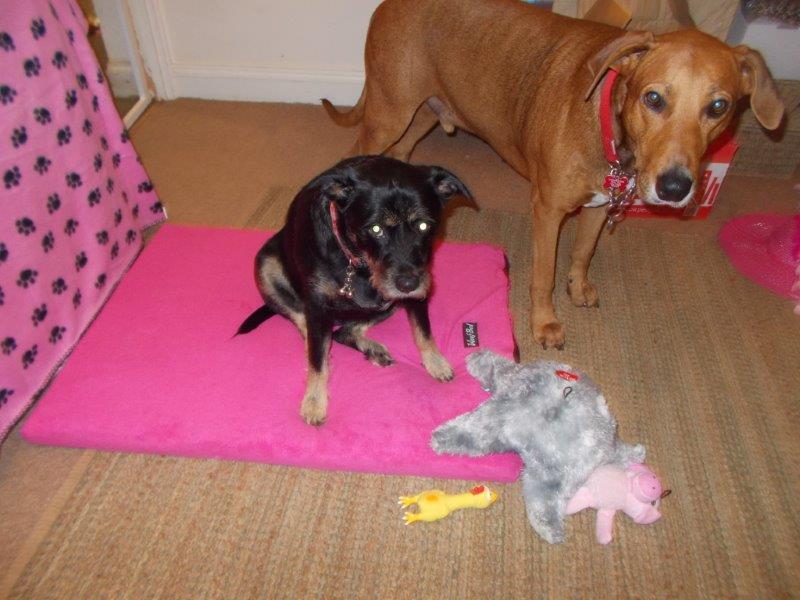 I lives wif my 3 bruvfurs grumpy, itchy and baby and as you has seen they all love my Woof~Bed :o)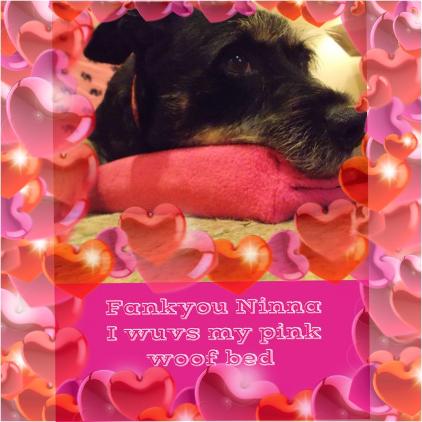 Thank you Bella :o)
If it wasn't for yous I wouldn't have Pink
Woof~Beds
X
George is a rescue dog & the vet thinks he's a cross between a Lurcher, Retriever & Alsatian !!
The Woof~Bed was a Christmas present for George. He is an excellent dog, beautiful nature and he loves his new Woof~Bed!! He didn't need any encouragement to use it, straight on, wonderful!
Thank you !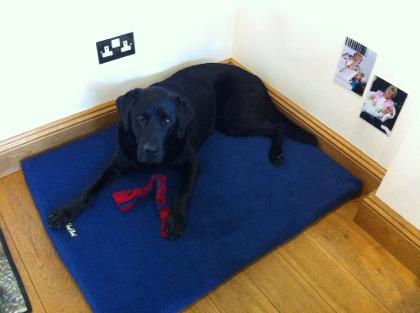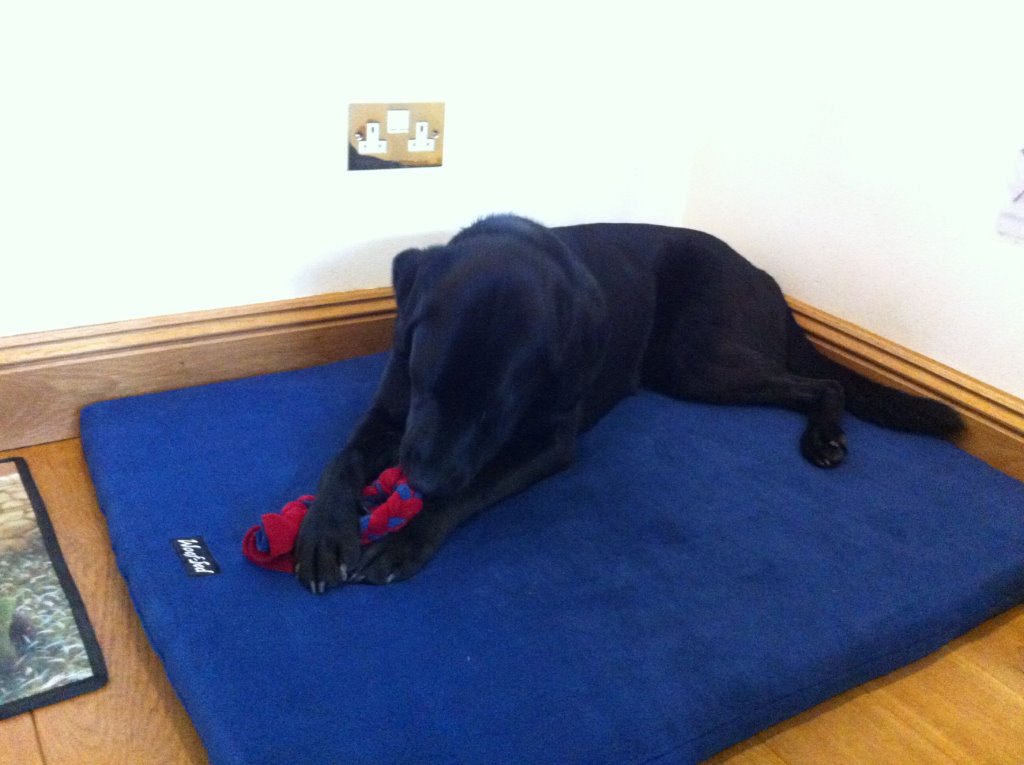 Theo really loves his new Woof~Bed & even seemed to know when the parcel arrived it was
for him ! Many thanks X
Joll - Cheshire
Joll is a Cocker Spaniel who is 7 years old. He loves going for a walk, swimming, chasing his ball and toast - not all in that order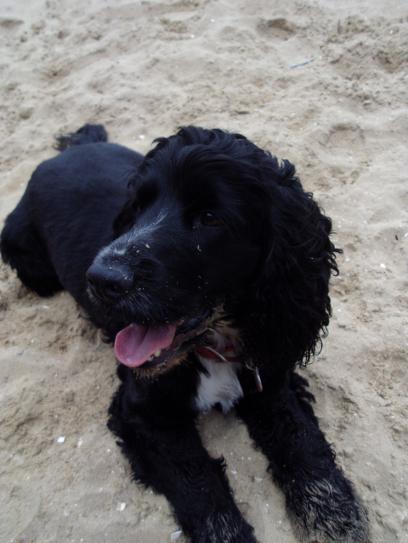 We bought him a Woof~Bed because he is spoilt, not because he is ailing, and he loves it !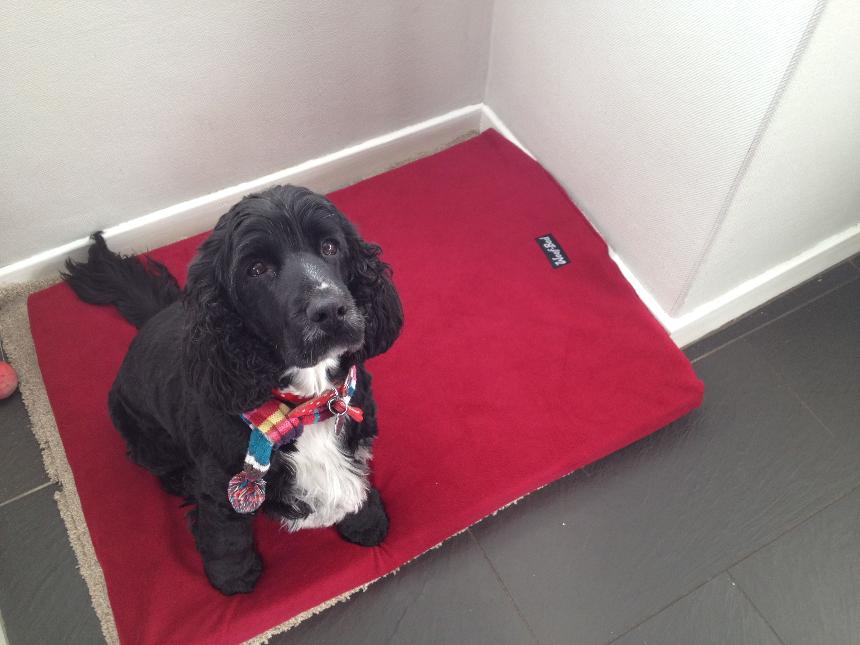 Lexie - Norfolk
My name's Lexie. I'm a 4 year old Golden Retriever. I have recently been diagnosed with cruciate ligament damage in both my back legs so a Woof~Bed is ideal for me. I am hoping to have an operation very soon so I can go back to having long walks again.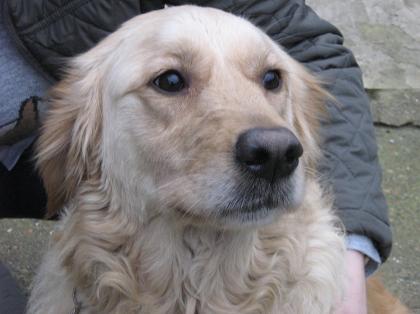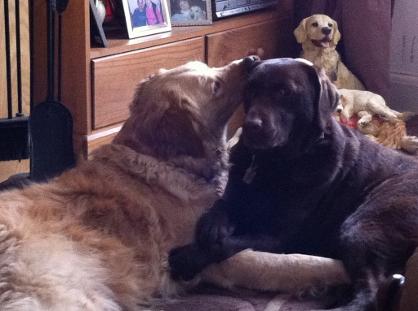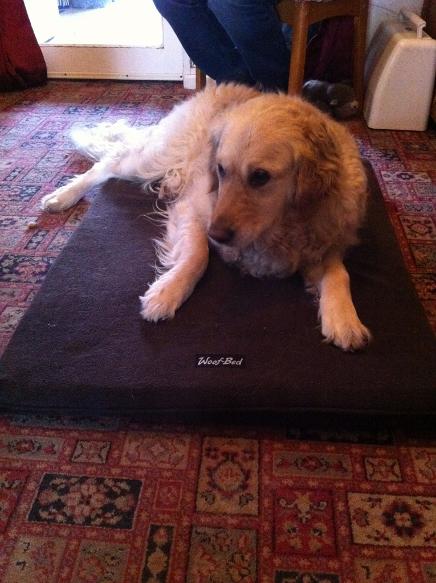 I love playing with my cousin Willow, together we cause chaos! I also love taking newly washed laundry out of the washing basket and out into the garden and playing with it. My Mum doesn't appreciate this for some reason!
Willow - Norfolk
My name's Willow. I am a 4 year old Chocolate Labrador. I suffer from Atopy so have to take lots of tablets everyday and have regular injections. I am totally mad but loveable so Mum says.
I live with my best friend Sparks the cat. He's 18 but we are extremely close and always together.
I see my cousin Lexie regularly. Lexie got a Woof~Bed as she has bad legs, Dad was so impressed with it that I was allowed to have one as well. Lucky me!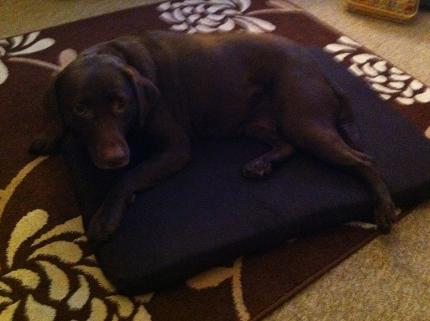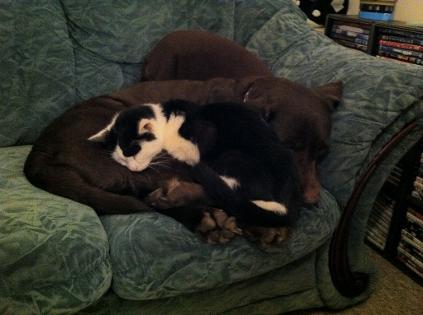 Bomber & KayCee - London
Enjoying the comforts of their new Woof~Beds
Ziggy & Zebedee - Hampshire
Ziggy has just had his first Birthday & Zebedee his younger brother is just 3 months old.
Here they both are enjoying their Woof~Bed !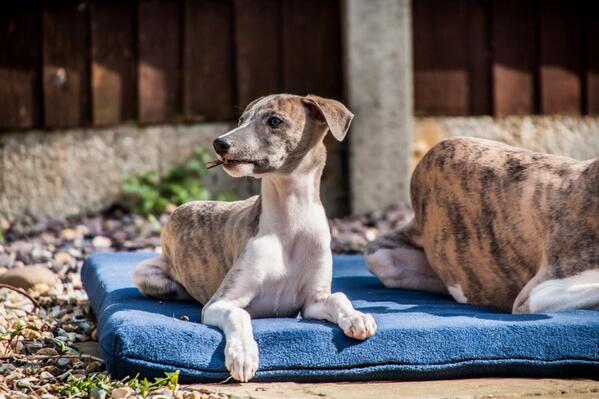 Daddy wanted some Ziggy love so enticed me to my Woof~Bed while mum entertained Zebedee..... We both fell asleep X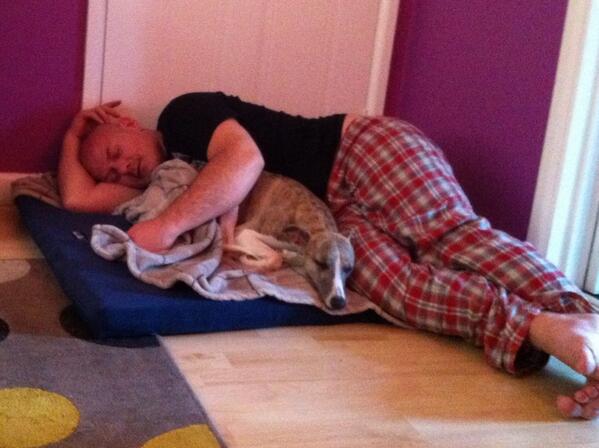 Oggy - Cornwall
He absolutely loves it! Thank you so much, it's perfect! It is the only bed that he has ever chosen to sleep on rather than the sofa which says it all. He has only had it 2 days now and I am already noticing that he is a little less stiff everyday.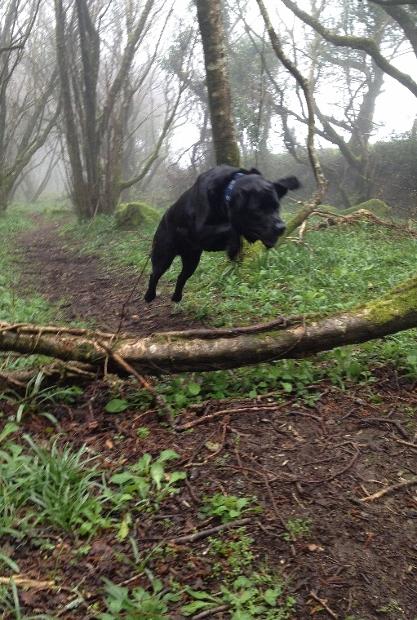 It's obviously doing him the world of good as that's not a bad leap for an 8yr Lab with a bit of a click! Thank you again from both of us :o)
Jasper - Kent
My name is Jasper - I am a working cocker spaniel and today is my first birthday. Mum bought me one of your lovely beds and me and my best buddy, Mr Polar Bear, think it's very comfy :o)
With love & puppy licks from Jasper X
Stella - Shropshire
Stella says " Thank you so much for her Woof~Bed & knot toy"
She Loves it !! :o)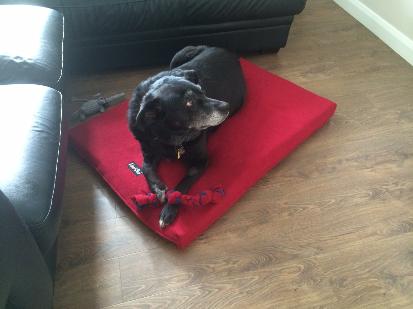 Otto - Lincolnshire
Otto our 14 year old Weimaraner "having a minute" in the sunshine on his new Woof~Bed :o)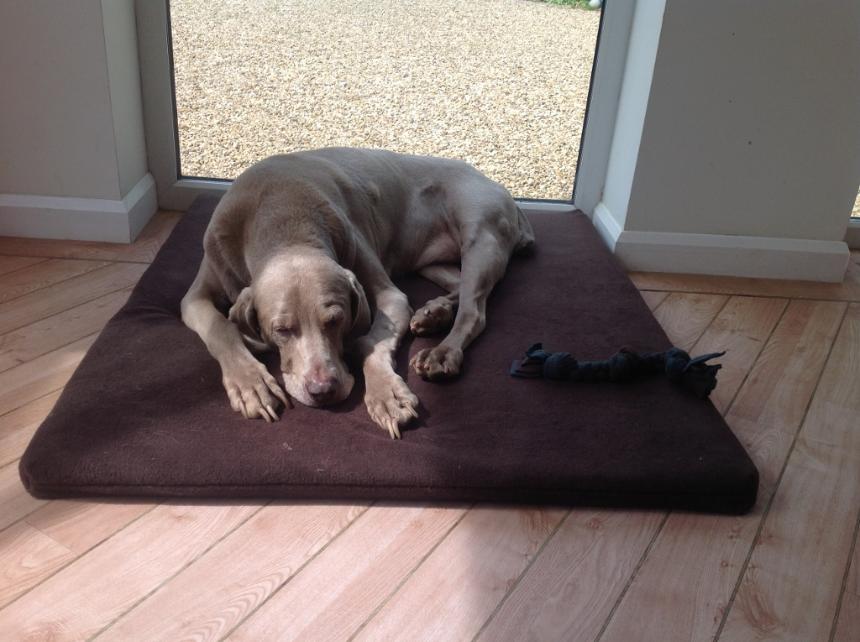 Ruby - Hertfordshire
Ruby is a 4 year old fox red Labrador. She loves long walks, chasing
squirrels and swimming in any water she can find, especially the sea.
Her favourite games are football in the garden and hide & seek around the house, with treats of course!
When she's not playing or asking for food, she's usually crashed out on her most
comfortable and soft Woof~Bed.
Happy Ruby with her new Woof~Bed, it's her favourite place in the whole house! X
Meg - Cornwall
Meg is 12 years old now and is a Cornish Springer Spaniel! She was born on a farm and is very much a country girl, hating traffic and crowds of people. She loves eating, loves opening presents and playing with her toys, sleeping and finding things, particularly enjoying searching for the tiniest treats that we hide around the house and garden, occasionally her finds are larger - usually bunnies!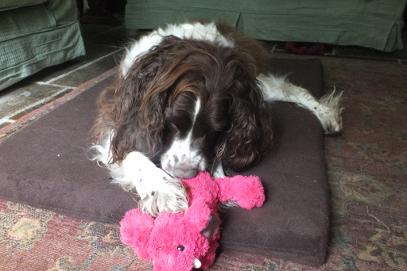 Meg has suffered from arthritis from a very early age, which we have controlled with a cocktail of treatments, now she is older it is limiting her to very short walks and she struggles with the stairs, jumping on the sofa and can no longer get on the big bed!
While away on holiday and after several months of lifting her on and off she started sleeping on her blankets on the floor so we decided the time was right for a Woof~Bed. In her time Meg has turned her nose up at several traditional dog beds so we were a little concerned; however after a good sniff she settled down and was literally asleep in seconds, the only trouble we have now is getting her up in the mornings!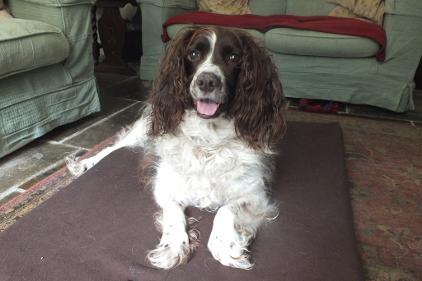 Thanks to the Woof~Bed we are all getting a much better nights sleep now! X
Geoffrey - Cheshire
My name is Geoffrey, I am a Wirehaired Hungarian Vizsla, I am 9 months old and my mum and dad say I am going through a typical teenager phase. I don't know what they mean, I must admit though I have chewed my last 3 beds, so they have at last ordered me a Woof bed ( it took them long enough to take the hint)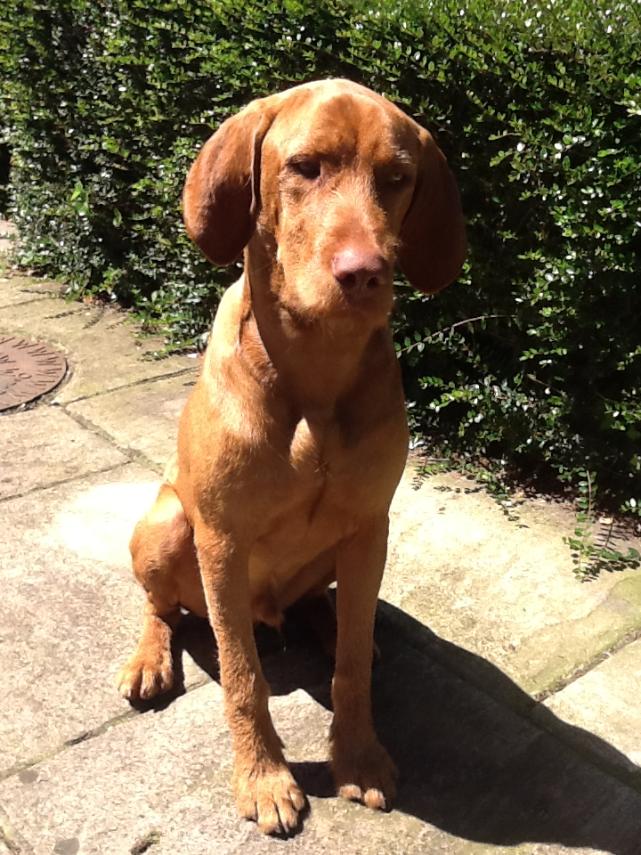 I have only had my Woof~Bed a little while and I love it. I better not chew this one or I will be in big trouble!! Woof woof.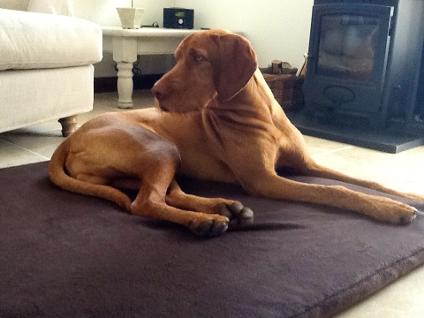 Bo - West Sussex
One of my dogs had major surgery on her knee, so I felt it was important that she had something supportive post op to lie on during her recovery. I shopped around for a memory foam mattress but most were either too small, too thick (impractical to move!) or incredibly expensive.
So I was obviously pleased when I came across your website which offered exactly what I wanted - a generous size, washable cover, lightweight and competitively priced mattress. To cut the long story short, I am very pleased with my purchase and would recommend these to anyone after a well made, well priced memory foam mattress.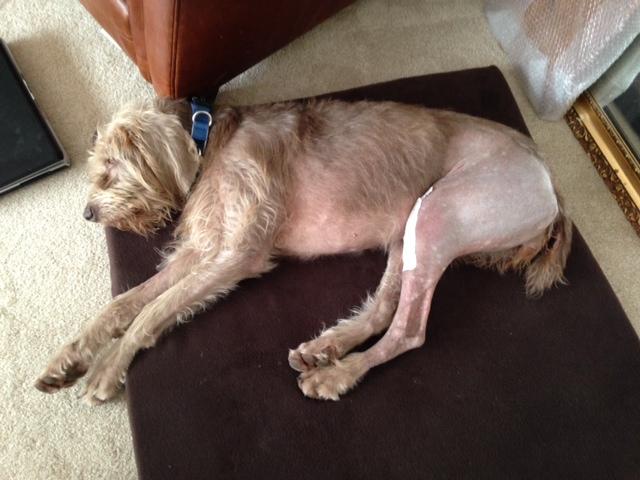 Here is Bo on her bed the day of her surgery.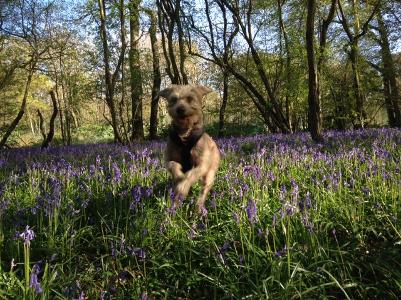 Bo being her more usual self!
Thank you :o)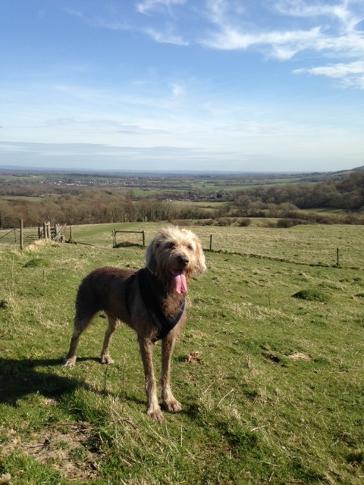 Milly Many Coats - Whitley Bay
Herooo efuryone one,
Ive taken some time out from me hectic tweeting and sleeping schedule to tell yoo about me fab new bed.
The kind Auntie Ninna at Woof~Bed has custom made one to fit in the back of me car. No more bouncing around on a pile of old bedding and towels fer me, a hound needs her comforts after all.
A perfectly sized comfy bed to rest me tired paws on after a busy time at the beach with zoomies, playing with pals and posing fer photos. Fank roo Auntie N
Travelling in comfort and style
Max - Northern Ireland
Gorgeous Max a Lhasa Apso, age 4
Trying out his new Woof~Bed :o)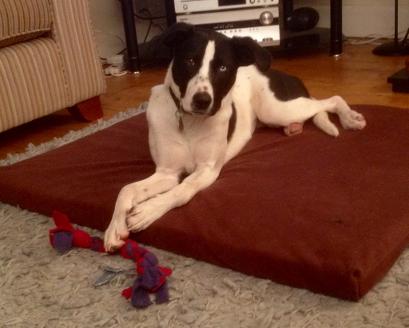 Ziggy - Kent
Ziggy enjoying his New Woof~Bed
& Knot Toy :o)
Jussi - Devon
This is Jussi, 30 seconds after joining our household.
He is a 9 month old Collie-Husky-Terrier X.
He was very contented to sleep on his Woof~Bed after being evicted from our bed.
This is Roxy our 7 year old Cairn Terrier on her new Woof-Bed
She just loves it as you can see from her waggy tail!
Roxy enjoys days out at the beach and also visiting lots of VW Festivals all over the country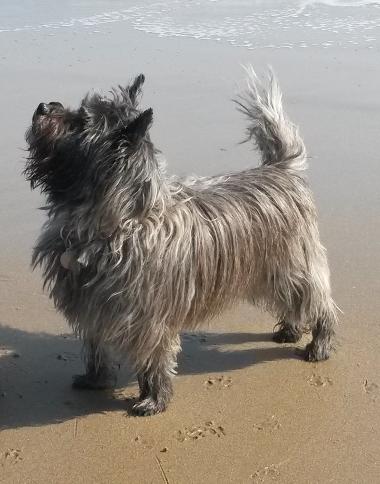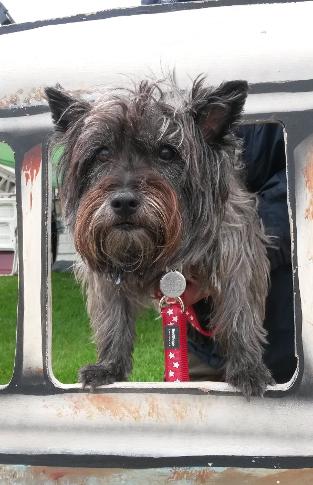 Roxy's favourite games are Football and Tennis
Roxy with her designer plastic friends! Roxy chillin with her best friend Phoebe.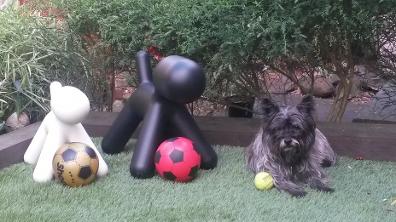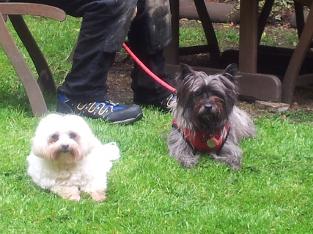 Georgie is 5yrs old & lives in Sale
George also known as GB by Gudrun (his second mummy) and Georgie Bear by his Auntie Gail.
He woof's to curl up on his Large Woof Bed which he now has to himself after his best friend Cooper sadly passed away.

He is such a live wire, he loves to run, not interested in chasing after a ball but he woof's his teddies and has quite a collection his bird, donkey and mouse being his favourite.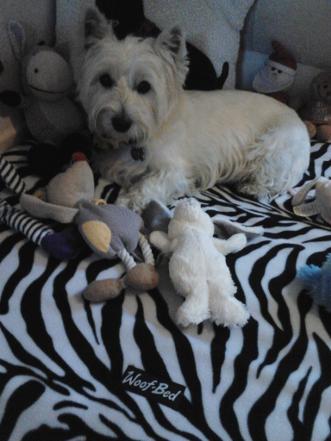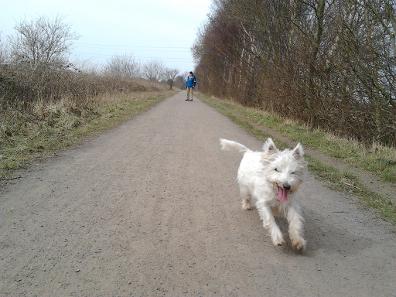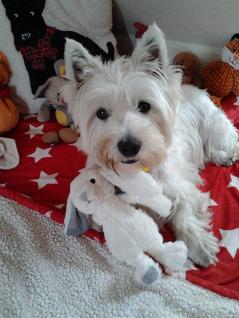 George woof's the beach and holiday's everywhere with us. He can give each paw and can also do High 5's!! He can open the cupboard door where his treats are kept but doesn't pinch any.
He also likes to sit and watch tv and give you a big lick.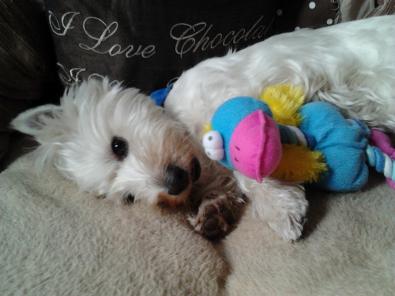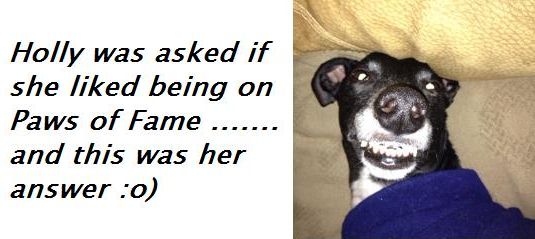 So, what are you waiting for ? Come and join us !!